Hello, lovelies!  This is the last update post of my 21 day cleanse on the Crazy Sexy Diet.   I am SO GLAD that I decided to embark on this 21 day journey to take my health to another level and learned so much more about myself along the way.  If you haven't already, please go back and read all the updates from day 1 to the end.  Days 1 thru 3, 4 thru 7, 8 thru 10, 11 thru  14,  and 15 thru 17. 
Day 18
Woke up at 6:30 a.m. and couldn't go back to sleep, so I decided to get up and make the most of the day.  Started morning with lemon cayenne water followed by a hot herbal tea (yerba mate).  I went out to the garden to pick some fresh swiss chard, cucumber and stevia leaves.  I got a recipe yesterday for GREEN MILK from Healthy Blender Recipes.   You mix juiced greens and almond milk to form a green milkshake that is INCREDIBLE.
 Juice: 
2 cucumbers

1 stalk celery

2 handfuls of spinach
 Then mix the homemade raw strained almond milk.  I added a few drops of stevia to enhance flavor.  
You get chlorophyll from the spinach, sodium from the celery, alkalizing water from the cucumber, and protein from the almonds.
Adding in the almond milk to the green juice gives it a mild almost minty flavour and smooth texture that is like a healthy milkshake.
It is cleansing, alkalising, satisfying, and DELICIOUS.  Thanks, Tess!
We're heading out of town for the weekend, so I had lots of preparations to do.
I made these lovely energy bars for our trip. Recipe coming next week! So easy to make and so full of nutrition.
I was good all day drinking plenty of fluids and having smoothies.  I got 15 minutes of rebounding in with a 6 minute plank.  I made two smoothies, broccoli onion avocado salad, sweet potato fries, a salad, and fresh guacamole to take with trip tomorrow (breakfast, snack, and lunch).  I am also bringing my Vitamix with me so that I can make fresh smoothies Sat. morning for breakfast. 
Dinner was a baked sweet potato, steamed broccoli and a salad.  (No pictures due to time constraints).
Will be interesting to see how the last few days of the cleanse go.  I'll be able to stick to it pretty much, but if there is something I want to try, I will.  Life is worth living and experiencing.

Day 19
Woke up at 6 a.m. and started my day off with lemon cayenne water.  I didn't have time to juice but did drink extra water..  I went ahead and dry skin brushed, flushed sinuses with neti pot and completed a 6 minute plank.   We were heading to Asheville, NC to visit some friends that were coming in from out of town.
 We hadn't seen them in 7 months and were really excited to able to drive 2.5 hours to visit.  When we hooked up, we all went out to an area for several hours of hiking to several waterfalls.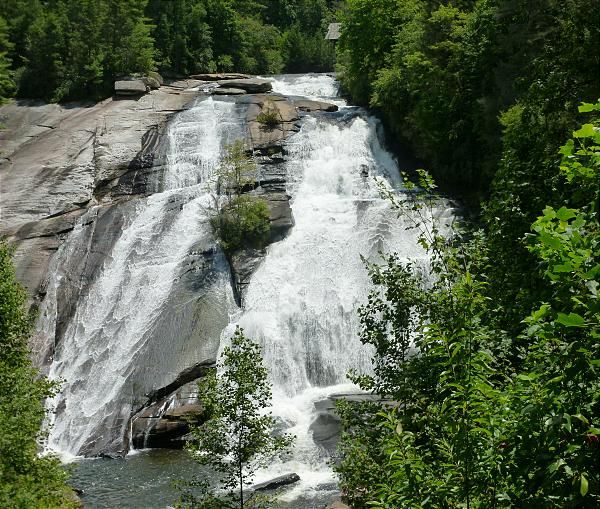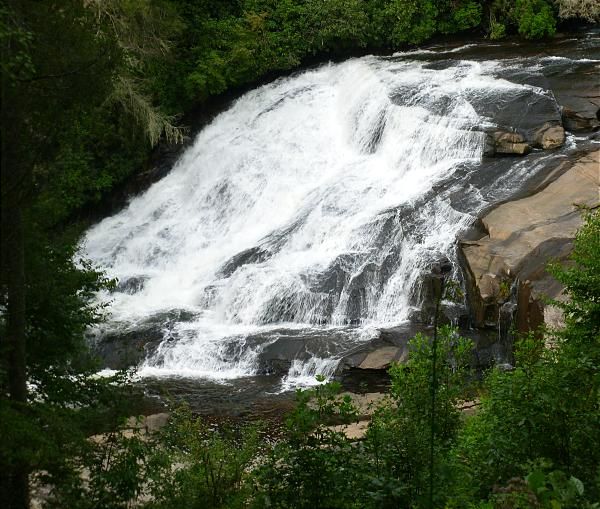 Some good steep hiking, exercising, sun, great company and lovely views.
 LOTS of fun!!
Asheville was having a huge music and beer festival for the weekend (Belle Chere) so we all decided to go check it out.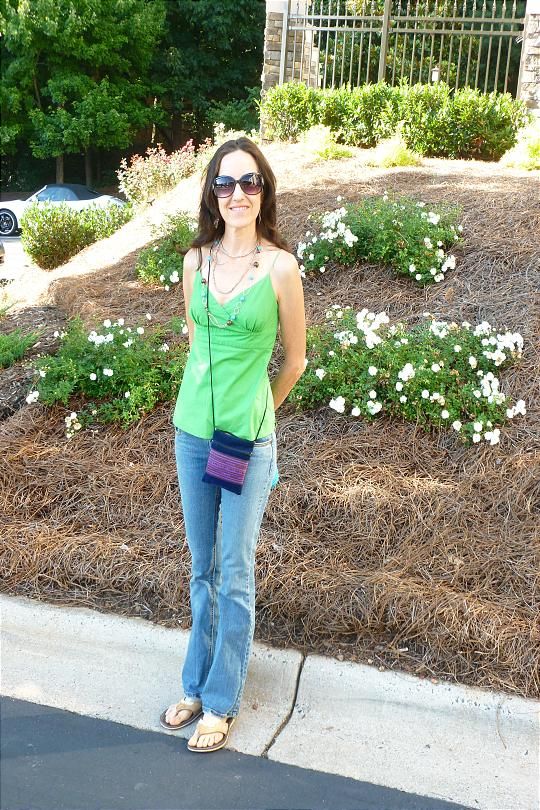 TONS of people! The entire downtown area was blocked off and there was activity EVERYWHERE! I had never been to anything like it and it was amazing!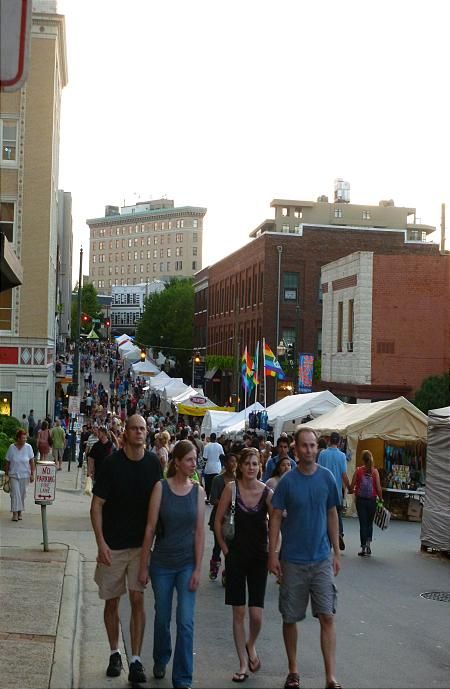 The energy was great!  We went to eat at a little "hole in the wall" Indian restaurant called Chai Pani that was fabulous!  I've never eaten at an Indian restaurant before and I was quite impressed.  I tried some food that wouldn't be considered "cleanse" appropriate, but I stayed on board with my vegan/ veggie style and it was wonderful.  I did have some okra fries (thin shoe string strips of okra lightly fried in a curry/sweet spice blend that was addictive).  I will probably try to re-create a "healthy" version and use the dehydrator.    We went into a local chocolate shop and I bought some quality dark chocolate to try (really couldn't help myself).  We stayed out late enjoying the scene and had lots of fun!
At one of the costume booths, Scott dressed up as ELVIS for fun and pictures!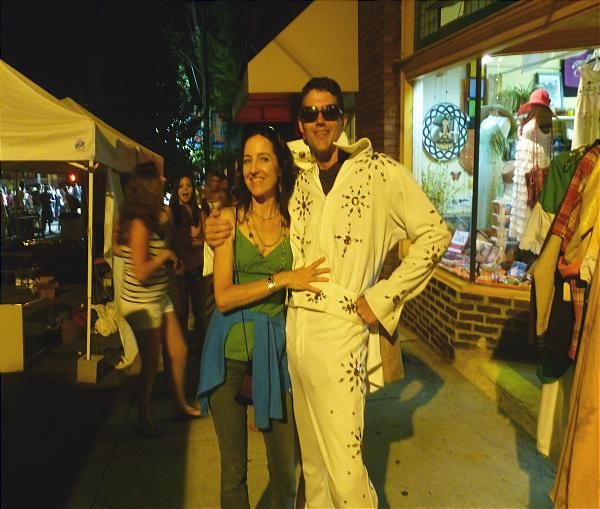 Day 20
Woke up early and since I didn't have any fresh juice available in the hotel room, I mixed some Ormus Greens with our fresh water (which I brought with us – 1.5 gallons), shook well and had a nice, alkaline-rich green drink.  Of course, I traveled with my Vitamix!    I had brought some bananas and other ingredients from home and made lovely, morning green smoothies in the room for our breakfast.  We brought coolers with food/ snacks and I made sure the room we were staying in had a mini fridge for storing it all once we got there.  Green drink, green smoothie = we were ready to go!
Met up with friends again to go back out to the festival in downtown Asheville.  Went into The Spice & Tea Exchange shop (was looking forward to going in there) and bought 2 roobois tea blends and 2 different types of sea salt.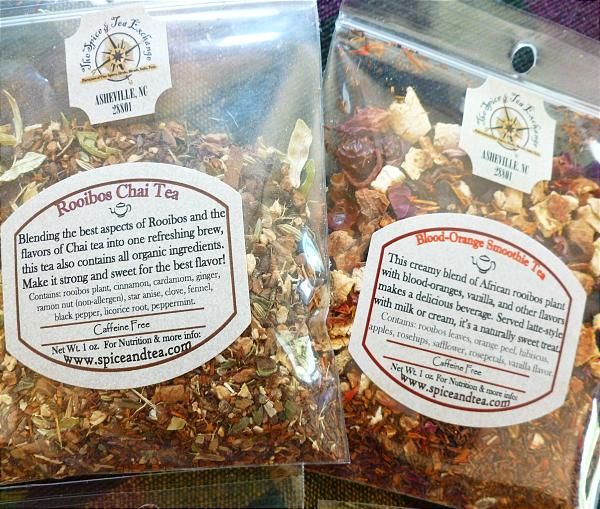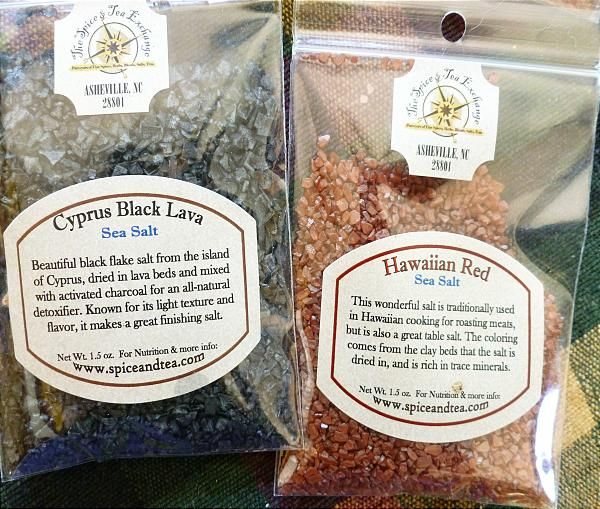 I had to restrain myself in that store – so many goodies!!!
After a fabulous lunch at a vegetarian/ vegan restaurant called Laughing Seed, we had an appointment at 2 p.m. for a tour of the French Broad Chocolate Factory.  Yes, I said CHOCOLATE!  No Oompa Loompa's there (Willy Wonka fans!)  It was wonderful (will do a post on soon) and had samples of dark chocolates.  Of course, I bought several bars.  They were amazing!  One that tickled my fancy was a 70% dark chocolate with lapsang souchong and sea salt.  It was AMAZING!  I bought 3 bars!  The tour was a highlight of the trip!  Learned a lot about the process from farm to end product.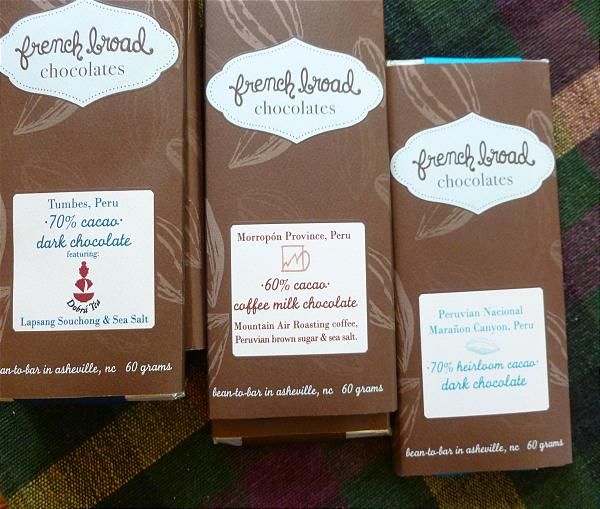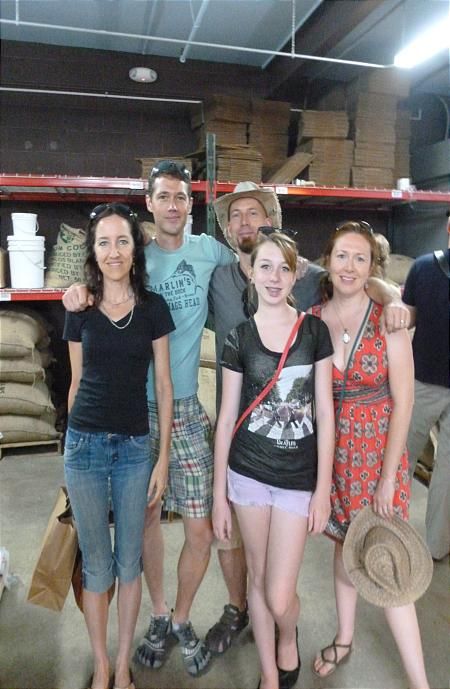 These are our friends: Jay, Ginger and Maya!  We had our picture taken in the back of the chocolate factory.   In the background are loads of bags of raw cacao beans!  I was in heaven!
Afterwards, Maya (13 year old) and I went back to the fair and got henna tatoos on our legs.  Henna is temporary and natural.  A great way to play around with a tatoo.  I loved mine!  Maya's was very cool too!  They are supposed to last anywhere from 2 to 4 weeks.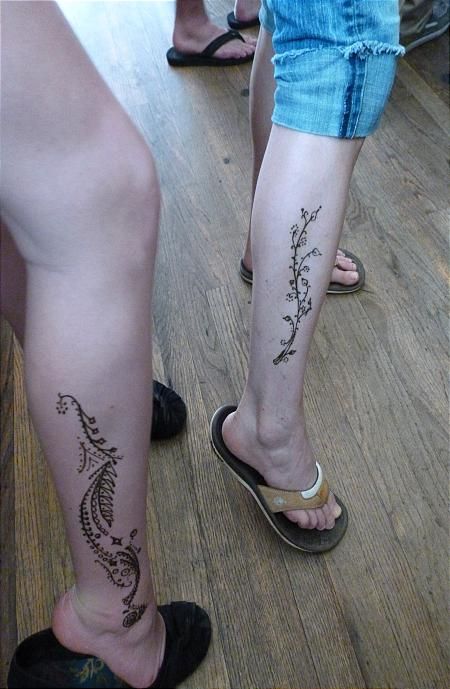 Scott and I had to leave and head back home (really didn't want to) around 6:30 p.m.  We rolled into the driveway around 9 p.m.  Drank more water and turned in early.
Day 21
 Woke up feeling a bit sluggish.  So, today was juicing and smoothies (liquids) to assist detoxing and give my digestion a break after the weekend.  I ate two meals (Friday and Saturday)  that I wouldn't have normally (still vegan) but my body is sensitive to little nuances in ingredients and combination thereof.  I started feeling better through out the day.  I could tell that my body needed resting and recouping.  Also, I felt some serious leg/ calf muscle wear from the hiking on Friday and LOTS of hill walking all over the downtown festival area.  It was so much fun though!  It was worth it all.  I ended up taking a two hour nap mid-afternoon.  I was OK with it because I felt like I needed it and would do me good.  Woke up feeling much better!  Yep, that was the ticket.
Dinner was a blended soup:  Raw, vegan TORTILLA with diced purple onion, avocado chunks and fresh cilantro.  I then added some crumbled organic blue corn chips on top and dug in!  It was insanely tasty!  I will post recipe for this soup in coming week.

Hung out with my sweetie catching up on a few tv shows.   Finished up the night with neti pot, dry skin brushing and extra water intake.

 With this cleanse, I have had several improvements with health:  digestion improved immensely (bloating/gas GONE!), allergies GONE, skin cleared up with texture smooth and radiant, energy levels HIGH, renewed love for exercise, clearer sinuses (due to neti pot usage), and smoother skin and reduction of cellulite (due to dry skin brushing and large intake of water).  I was also able to become more in-tune with my body and listen to its needs and desires.  Listen to what my body wanted vs. what my head wanted.  I learned to "get out of my head" and more into my heart.   I learned on a deeper level that my thoughts/ perceptions/ attitude have a huge correlation on physical ailments and everything around me.  My thoughts create my world and how I start my days.  I have learned to LOVE myself, my body, and my life.  Due to my thought changes, I have become more compassionate and have worked on some personal issues that arose during this time.  Cleansing and detoxing on several levels (physically and emotionally).  This was amazing!
Overall, I HIGHLY recommend doing this cleanse.  If you don't have the time to all of it, do some of the steps like incorporating dry skin brushing daily and changing eating habits.  See how that goes for you and then the following week, try the neti pot.  These methods I have incorporated into my daily routine and love them.  I have seen the results and will continue to implement them from here on out.   Just like brushing your teeth, washing your face, shaving, bathing, etc. – these are just additional methods of self-care.  This was the best cleanse and challenge for myself!  Challenge yourself and see what results might come from it by doing this 21-day cleanse.  You just might be surprised!  I was!
I am sincerely grateful to Lolita from Peace, Love & Greens for inviting me on the CLEANSE wagon with her.  Having someone to do the cleanse with is a powerful motivator and lends a great support system.  Thanks, Luv!
 Please feel free to comment or ask me questions.  Always LOVE hearing from you!
♥

For more healthy living and organic gardening tips, quick recipes, what I'm eating and inspirational quotes

, LOVE me on Facebook.

Lots of fun stuff!
May the GREENS be with you and Be Inspired!
Kibby